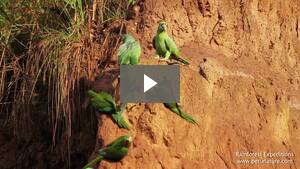 Click To Play Video
Click To Play Video Tambopata, the heart of the Peruvian Amazon. In the shadow of the Andes, this stretch of tropical rainforest is home to a stunning myriad of plants and animals.
It is widely recognised as one of the most biodiverse ecosystems on earth.

Tambopata is also the centre of operations of Rainforest Expeditions, Peru's largest ecotourism company.
In partnership with local indigenous communities, we run three award-winning lodges deep inside Tambopata's forests, giving visitors a unique chance to sustainably experience the natural wonders of the Amazon.

Since our first lodge was founded in 1989, thousands of travellers from around the world have stayed with us. By choosing Rainforest Expeditions, each of those travellers has allowed us to reinvest in the conservation and protection of this unique wilderness.
Our guests choose from a menu of activities, tailoring their trips to their specific tastes and needs. We offer everything from family excursions to adventurous overnight hikes and kayak trips, and cultural tourism including traditional ayahuasca ceremonies and home-stays with local families.
But more than anything else, our guests have the opportunity to get up close to the amazing plants and animals that surround our lodges, observing everything from caymans to seven different species of monkeys and hundreds of kinds of exotic birds.
Our work to protect the rainforest is now more urgent than ever. New roads are opening up Tambopata to logging, poaching and unsustainable agriculture. And record commodity prices have triggered a wave of illegal gold mining. But there is another way – the Rainforest Expeditions way.
By offering local indigenous communities the chance to use ecotourism to create value from healthy living forests, we are helping to preserve hundreds of thousands of acres of the Amazon – and prevent millions of tons of greenhouse gas emissions from deforestation.
At Rainforest Expeditions, we also support conservation research. Every year, we host dozens of scientists from around the world who come to study this spectacular ecosystem, often making discoveries that can help save threatened rainforests in other parts of the world.
Without our guests, none of this would be possible. Rainforest Expeditions will be happy to make your stay in the Amazon a truly memorable, once-in-a-lifetime event.
The world's greatest rainforest is waiting for you.